Building in Boston Back on Track
The Hub's long chilly commercial real estate market began showing signs of warming up in 2011, with major projects from Eastie to Southie either publicly announced, under construction or completed.
"We're in pretty good shape," Boston Redevelopment Authority Director Peter Meade told the Herald. "We broke ground on 1,000 units of housing (in 2011) — and the last time we did that was in 2006."
Meade sees June's groundbreaking of Vertex Pharmaceuticals' new headquarters at South Boston's Fan Pier as perhaps 2011's biggest achievement.
Vertex's decision to leave Cambridge and sign a $1.1 billion South Boston lease represents the climax of a 30-year effort to redevelop Fan Pier.
The groundbreaking also kick-starts Mayor Thomas M. Menino's plan to turn South Boston's waterfront into an "Innovation District" of tech firms, housing, restaurants and shops aimed at young workers.
"Once Vertex broke ground, people began to understand that the Innovation District is really happening," said Meade, who joined the BRA in May.
Still, other problems remain for Hub commercial real estate.
Suffolk Construction chief John Fish, who's currently building the Theater District's $220 million Hayward Place and the $170 million Kensington residential complexes, expects a "relatively flat" market for Boston office space throughout 2012.
"Class A space will continue to attract positive numbers, but the B+, B- space will continue to struggle," he said.
That said, several major Hub projects either moved forward or opened for business in 2011, including:
• Atlantic Wharf. Developers cut the ribbon on this $550 million, 31-story complex near South Station. The site features 86 lofts, 750,000 square feet of office space and 30,000 square feet of restaurants and shops.
• Copley Place. The BRA approved a planned $500 million, 47-story addition to this Back Bay landmark. The project will add 318 condos and 115,000 square feet of retail.
• East Boston waterfront. Menino announced an initiative to get more than $500 million of stalled East Boston projects moving. He offered to pony up money for infrastructure improvements and new water-shuttle service to downtown Boston.
• Hayward Place. Millennium Partners broke ground on this 15-story mixed-use project in Downtown Crossing.
• The Kensington. Kensington Investment Co. started work on the long-delayed $170 million, 27-story apartment building at the former Gaiety Theater site.
• Dudley Square. Menino unveiled a roughly $115 million plan to jump-start redevelopment of Roxbury's Dudley Square by moving the Boston Public Schools headquarters and other city offices there.
• Harvard University projects. Harvard won approval to build a $100 million Tata Hall in Allston. The school also unveiled plans to develop a 12-building Allston Landing North research complex nearby
• Other college expansions. The New England Conservatory of Music filed notice to add 10- and seven-story buildings to its Fenway campus. And Berklee College of Music also broke ground on a $100 million, 16-story mix of dorm rooms, class/performing space and stores.
• Liberty Wharf. The $60 million Liberty Wharf mixed-used complex opened in South Boston, offering space for Legal Harborside and other restaurants.
However, two projects remain stalled:
• Filene's site. Vornado Realty Trust stopped work in 2008 on Downtown Crossing's former Filene's site, leaving a giant hole where a 39-floor building was supposed to go. The city has yanked the project's permits and Vornado has put the site up for sale, but can't find buyers willing to pay its roughly $200 million price.
• Boston Harbor Garage. Developer Don Chiofaro's $1 billion plan to build two skyscrapers where the Boston Harbor Garage now stands has gone nowhere.
Chiofaro has long crossed swords with Menino over the project's height.
-— jkronenberg@bostonherald.com
#################################################
You promised.
There is too much at stake not to do so.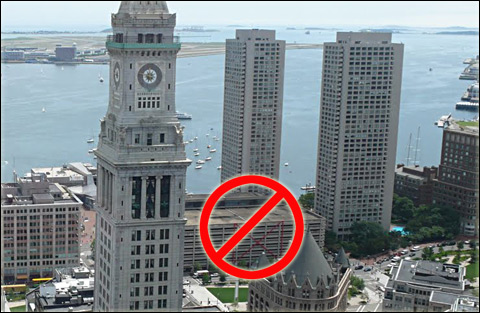 When Boston Mayor Thomas Menino took his oath of office for an unprecedented fifth term this past January, he made a promise that raised many eyebrows.Menino pledged to look upon old problems with new eyes and remain flexible in dealing with innovation and projects without precedent.
The mayor, always a focused individual not known for his magnanimity when displeased, promised to keep an open mind as Boston moves to wrestle with the biggest challenges it faces in a generation.
The Phoenix applauded Menino's new spirit — and took a bit of gentle ribbing from cynics who thought the mayor's words were all sizzle and no steak.
No one can accuse Menino of being open-minded in his consideration of developer Don Chiofaro's plans to build two towers on the Boston Harbor front by the Rose Kennedy Greenway. The towers would rise on a lot now occupied by a parking garage, which Chiofaro purchased almost three years ago for a reported $155 million.
The truth is, not only will Menino not consider the project, but after months of public wrangling via the press, he still declines to meet with Chiofaro.
To be very clear, Chiofaro has been lobbying the Phoenix hard for months, trying to sell this paper on the merits of his proposal.
And although we first greeted the idea with skepticism, over time we've seen some of the potential objections, such as Port Authority consent needed for airport fly ways, melt away.
This is not to say that Chiofaro's proposal as it now stands should be approved. It's not perfect. But it has merit. It should be considered.
We discussed the plans with several architects with no ties to either the mayor or the developer and all said that they thought the central idea of towers not exceeding 400 feet was workable. Chiofaro's plans, they said, were rough, but certainly ready for refinement.
The concern, on the mayor's part, seems to be that towers will ruin the Kennedy Greenway.
Many architects disagree. They say that what the Greenway — now full of grass and little else — needs is foot traffic, people, congestion. Urban mass is the key to the Greenway succeeding.
A potentially signature urban project is being held hostage by what is an essentially a suburban idea of development.
And then there is the issue of personality conflict, the clash of egos, Menino versus Chiofaro.
Chiofaro has so far done things by the book, beginning work with the Boston Redevelopment Authority. But he is, of course, no dummy. He should know that the mayor likes to deal with these things personally, and before they are made public. Whether that's good public policy or good management practice seems to be irrelevant.
In many back rooms and board rooms around the city, there is a sense that maybe these two guys deserve each other.
That, however, should not be the point.
Chiofaro's plans have the potential for huge economic impact.
It is important to note that this is a $1 billion-plus development, and Chiofaro is asking for neither tax breaks nor subsidies.
If built, Chiofaro estimates the towers would provide 4000 construction jobs and 3800 permanent jobs. They would provide the city with $19 million in annual taxes and a one-time linkage fee of $13 million. Massachusetts would stand to garner $2 million in hotel taxes and $20 million in income taxes each year. In addition, Chiofaro has offered the city $50 million for neighborhood improvements — to either the harbor front or the Greenway.
With the city facing several years of squeezed revenues, which will hit libraries, schools, parks, and public safety hard, it is difficult to understand how a prudent official can not at least talk.
We know the mayor has more on his mind than worrying about what this newspaper wrote about him nine months ago.
But many voters took Menino at his word when he said he had turned over a new leaf in the listening department.
Come next winter and spring, the city will most likely be facing another season of austerity. Menino should be moving now to deal with that. And consideration of the Chiofaro project should be part of his thinking.
Chiofaro is expected to release another draft of his plans some time in the next week or so, reflecting feedback from a number of sources, That would be a perfect opportunity for Menino to allow a sit-down.
We have seen the mayor at the top of his development game, as he invested himself directly in moving an often-stalled process forward in the Fenway, where the Phoenix has been headquartered for almost 25 years, for the good of everyone — the neighborhood, the developers, and the city as a whole. It is time to get Boston moving again, and we believe that together Menino and Chiofaro can jumpstart the improvement of the Kennedy Greenway for the benefit of all.